Tea is a commendable source of delight for everyone. It can be demanded at any time, whether it is morning when you get up and find something that refreshes you up and soothes your mind, or it is required in the afternoon when you are tired up with the hectic daily routine. Evening snacks with tea Infused recipes can be a delightful serving.
Tea has various kinds like Green Tea, Black Tea, peppermint tea, Hibiscus tea, and many more. All types of Tea Infused Recipes are beneficial to our health. Its aroma delights us when we are exhaust.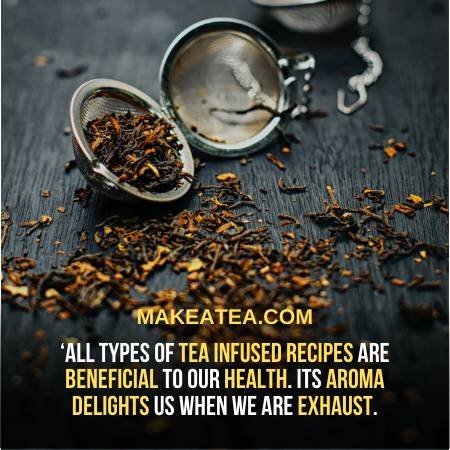 We often ignore the fragrant leaves of tea when it comes to cooking. These fantastic leaves can do wonders for your kitchen. Each tea type has different flavors and unique qualities, leading you to enter a new world of dishes.
12 Best Tea-Infused Recipes
Besides drinking tea, if we try to make recipes with it, we can create a kitchen storm.
These tea infused recipes are healthy and light as well. They give you a flavorful taste and a crunchy punch. There are a few recipes that are mention below.
1.

Matcha & Vanilla Donuts:
These doughnuts are tempting and luscious. Matcha (Green Tea) is used to make them. Its origin is Japan. It comes in powder form and is made from green tea leaves. 
It is full of antioxidants, which makes the recipe extremely healthy. With Matcha, we can also prepare smoothies, ice creams, and pancakes. Click on the following link to get another delicious tea dessert recipe made from Matcha.
2.

Hibiscus Tea & Poppy Shortbread:
Hibiscus tea is a well-known tea plant. It is the most prevailed serving and has a sour taste but substantial benefits. As it helps to control blood pressure, is pack with antioxidants, promotes weight loss, etc. 
To make Poppy Shortbread, you need to prepare tea infused butter. After this, mix the butter with hot water, and it is ready to serve.
3

.

Thai Tea Cheese Cake:
Thai Tea Cheesecake is made of Thai tea powder. The powder is a combination of black tea, spices, and powder. This powder assists in preparing smoothies, yogurts, and cakes.
Thai tea cheesecake is a super dense, delicious, and mouth-watering recipe. It is made with Thai tea powder, butter cream cheese, and eggs.
4. Jasmine and White Chocolate Whoopie Pie:
Whoopie pies are cake-like cookies fill with succulent cream cheese, are certainly delectable to everyone. Whoopie, pie cakes are full of flavor with jasmine tea.
Jasmine tea is made by infusing tea leaves with jasmine flowers. It is super healthy and delicious.
5. Green Tea Ice Cream:
Green tea is proclaiming to be an extremely healthy beverage on earth. Tea has overflowing benefits for the brain, body, and heart. Green tea protects you against cancer and maintains your metabolism.
Besides drinking green tea, you can also make an ice cream bowl with coconut milk dates and green tea powder. It gives you exceptionally "pink perfection."
6.

Frosted Chai Snickerdoodle Cookies:
These are chai spice cookies. If you are fond of chai, then this recipe is especially for you as you can have tea and cookies at the same time.
7.

Chamomile Lavender  Scones:
The aroma of these scones will refresh you up, served with a cup of tea. It is exceptionally delightful and soothing. It is prepared with dried lavender flowers, chamomile, and flour. Do try it, and you will never forget its fragrance. Also, try our Chamomile Tea Recipe, which is easy to make and good for nerves. 
8.

Earl Grey Cupcakes:
It is an effortless and straightforward recipe. Just pour the Earl Grey tea bags in milk and mix with batter, and you will have super delicious cupcakes. You can also try our recipe for homemade Earl Grey Tea.
9.

Matcha Cheesecake Bar:
Matcha cheesecake bar is another recipe with green tea powder. These are white chocolate and tangy cream with Matcha powder, and their combination gives you a healthy meal of the day.
10. Green Tea Crusted Tuna:
This recipe is prepared with green tea crust, Matcha (green tea powder), and soybean powder. It gives an attractive look and mouth-watering fragrance.
11. Tea Infused Potatoes:
Potatoes made up of the technique of smoking with green tea leaves give an overpowering charm. The dish is prepared by brewing the potatoes in green tea leaves and then adding smoke to them. It provides a relishing taste.
12. Tea Smoked Salmon Recipe:
This recipe is spicy and best for those people who are fond of spicy and salty dishes. It has a tart taste. It is developed by adding soy sauce, wine, Ginger in a bowl and then marinating Salmon. 
After this, Salmon is fried in a pan and ready to enhance everyone's appetite. We have considered a long list of recipes with tea. 
But if you are not using powdered tea in your tea infused recipes, you can infuse tea directly into your meals. It will add flavor to your feed and also much healthier than spicy stocks and soups.
Tea Can Be Used For Stokes:
Dragon well green Tea and lop sang slouching black tea are two types of natural stocks. Green tea can be used widely with vegetables, fish, and poultry.
Tea Can Be Used As Spices:
Amazingly, Teabags can be used as spices. If we take small-sized packets of tea bags, which consist of finely cut leaves, can be used as oregano or basil, and sprinkle on the vegetables.
Vegetables Can Be Cooked In Tea:
Vegetables cooked in tea add more flavor to meals. Lap sang slouching Back tea adds smokiness to beans, while Matcha green tea gives the rice a flavorful color.
Tea Infused Cookies
Do you know how adding something to your tea and eating the tea leaves can benefit you? We crunch the leaves into a powder to whip them gently and quickly to make a frothy and delicious beverage. 
People enjoy more benefits from their tea to try out the tea leaves in making dishes, desserts, cookies, and more. 
Nowadays, people use different tea leaves to make gelato, marinade or bake a cake. For that, we have mentioned here a delicious and straightforward recipe to assist you in creating a delightful tea dessert that will cherish your guest for sure.
This can be the tastiest, healthiest, and most comfortable, and the most enchanting procedure to add your infused tea for baking shortbread cookies. The cookies are made of butter. 
That's why they are too crunchy, and they satisfy your sweet tooth by melting on your taste buds for their buttery goodness. Here are the primary ingredients you need to get a start;
Ingredients:
Unsalted and organic butter (1 cup – softened)

Powdered sugar (half cup)

Himalayan sea salt (half tsp)

Crushed tea leaves (1-2 tbsp)
You can follow the recipe for baking simple cookies. In the first steps, you can add crushed tea leaves as a powder or even as leaves, all up to you. Tea leaves deliver a decent citrus taste or smokier flavor based on your choice of plates.
Fruit Infused Tea
Tincturing spices and herbs in hot water make ISANES or herbal teas. They feature plenteous health benefits. These teas gain quick admiration among tea lovers from providing easy digestion and weight loss to increasing immunity. 
Teas with fruits in them have become famous despite logically not being teas. These intermixtures don't comprise tea leaves but are instead prepare by boiling a combination of fruits, herbs, and spices all together in the water. 
They believe in the benefits of containing several nutrients and minerals. Tea Infused Recipes with Fruits aren't only healthy but also flavorful and delicious because of fruits' presence.
For Example, fruit-infused tea is genuinely made to promote your immunity in the winter season. The recipe contains chamomile tea, which has an incredible quality of boosting immunity. 
It may also work to treat plenteous gastrointestinal problems like vomiting, motion sickness, nausea, diarrhea, indigestion, and cold. 
This recipe doesn't contain caffeine and has sweet and brisk fruits like orange, cherries, berries, mint leaf, and Ginger brewed in hot water. This tea has fantastic health benefits if you serve this hot. 
It also improves your sleep quality by fighting insomnia. It improves your cardiovascular health because of the existence of flavones in it that exhibit antioxidant features. And it also helps in managing anxiety.
Conclusion
Tea Infused Recipes are incredibly beneficial to our health. We can use it in our daily routine of cooking. Tea Infused Recipes has an extensive list of benefits as Ginger prevents sinuses, chamomile assists in boosting metabolism, and lemon aids in alkalinity in the body. 
However, it is a Universal fact that "EXCESS OF EVERYTHING IS BAD." So, tea has its side effects too. Although, limited but exists. Excess drinking tea creates anxiety and stress. It disturbs the sleep routine. 
More than the required intake of tea causes heartburn, constant headaches, and restlessness. However, Green Tea has minimal repercussions. If we use an optimal amount of tea leaves in our meals, these recipes will be ideal for our bodies and health.
If you like our article and want to give us any suggestion to improve it, we would like to hear from you. Please let us know in the comment section below!