Ginger Chamomile Tea is a perfect treat to the soul. Whenever, you are feeling stressed , tired or even having a cold, this tea is the way to go.
This tea is a potent source of beneficial enzymes as it contains not only one but two most potent medicinal herbs, ginger, and chamomile.
Prepared with the goodness of chamomile flowers, ginger, lemon and honey, this is a perfect drink to enjoy your day.
Here is a short recipe of ginger chamomile tea:
Take a fresh piece of ginger and cut it into long but thin slices.
Then boil the two cups of water.
Put ginger slices and dried chamomile flowers into it.
Boil for up to 5 to 7 Minutes.
Let it soothe for more than 5 minutes.
Turn the heat off and Enjoy.
People have been using ginger and chamomile separately as medicinal herb for centuries. However, they knew not that these two herbs could be combined to make the world's famous herbal tea.
6 Step Easy Recipe to Make Ginger Chamomile Tea
1) Ingredients:
Here are the ingredients required to make perfect ginger chamomile tea.
| | | |
| --- | --- | --- |
| 1 | Water | 2 Cups |
| 2 | Ginger | 1 Slice |
| 3 | Chamomile Flower or Sachet | 2 Flowers |
| 4 | Lemon (Optional) | 1 Tsp |
| 5 | Honey or Sugar (Optional) | To Taste |
2)

Time to Make:
The total time required to make ginger chamomile tea is 12 to 15 Minutes.
3) Recipe:
Here is the perfect recipe to make your very own ginger chamomile tea.
Take a fresh piece of ginger and cut it into long but thin slices. We can handle almost 2 slices for one cup of tea. It depends on how strong you want to drink.
Then boil the two cups of water.
When the water gets warm, put ginger slices and dried chamomile flowers into it.
After this, cover the pot and let it boil on medium flame. Within 5 to 7 minutes, ginger and chamomile leaves will start leaving their flavorful and aromatic fragrances.
Let it soothe for more than 5 minutes to get the even flavor of the ginger and chamomile.
Turn the heat off. Add the honey and Lemon Juice. The delightful and pleasant tea is ready for you.
7 Benefits of Ginger Chamomile Tea
Ginger Chamomile tea is likely one of the most soothing tea you will sip. This naturally caffeine-free tea comprises numerous health benefits, which are as follows:
1) Treats Inflammation & Sore Throat:
The perfect blend of ginger and chamomile leaves you invigorated when you are treated to only a few sips of ginger chamomile tea.
Chamomile leaves are the finest anti-inflammatory, and ginger is supreme for curing cough. Therefore, whenever you have a sore throat, this cup of tea will surely help you.
2) Reduces Stress & Anxiety:
Chamomile leaves are beneficial for reducing stress and anxiety whenever you are tired of your hectic daily routines and burdened up with the heavy workload.
You should take a warming, fresh, and soothing cup of ginger chamomile tea and ward off all your worries. Remember to thank us later.
3) Helpful in Nausea & Morning Sickness:
This super beneficial tea has essential ingredients of ginger and chamomile leaves. Both elements have great power in healing nausea and morning sickness.
Add this cup of tea to your daily routine, and you will see nausea and sickness vanish away into thin air.
4) Gives Glowing & Spotless Skin:
Regular intake of ginger chamomile tea can make your skin immensely glowing and fair. The chamomile flower is given the rank of GOD in Egypt because of its radiant vibes and qualities.
It reduces the signs of ageing as well.
5) Relieves Muscular Pains:
Ginger is many painkillers for muscular pains. It is of great help in relieving the distress. Gym going people should consume ginger chamomile tea regularly as it can calm muscular spasm.
6) Acts As a Great Tranquilizer:
This strange combination of chamomile and ginger can also act as a tranquillizer as chamomile leaves contain an antioxidant called 'apigenin' which is substantial for its soothing and calming effects.
It makes your sleep comfortable and stress-free.
7) Great Medicine For Digestion:
This fantastic tea can help you get rid of an upset stomach. It improves your digestive system. It is of great help against vomiting and stomach disorders.
Practitioners use chamomile flowers for clinical purposes. But when it is combined with ginger, which is also notable for resolving stomach discomforts.
In short, It can do miracles to your stomach and digestive system.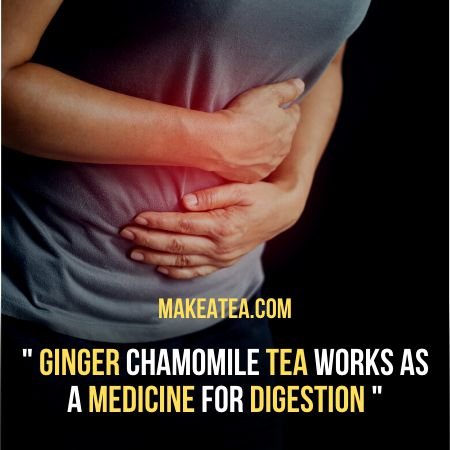 To get the most out of our website, you can look at our other innovative recipes Earl Grey Milk Tea and Coconut Chai Tea.
Some Facts About Ginger
Ginger is an underground stem that belongs to the family of turmeric, cardamom, and galangal. It originated in South Asia; India and China are significant producers of ginger today.
People have been using ginger in traditional medicinal and culinary applications for centuries. As a herb, ginger is used to heal many diseases. And as a spice, it adds flavor to meals and is spicy.
Taking a few benefits, ginger helps to fight against cancer. It treats nausea and indigestion and lowers sugar and cholesterol levels. Ginger tea drastically helps in muscular and menstrual pains.
It has substantial benefits for both body and the brain.
It would be undoubtedly unfair to prepare tea without ginger, as tea and ginger are both inextricable. We will lose the flavor and aroma of the tea without ginger.
Fun fact: "India produces half of the world's ginger at the Malabar Coast. Hawaii ships most of the ginger to America."
Some Facts About Chamomile
Chamomile is a daisy-like plant that belongs to the family of sunflowers, Echinacea, and marigold. It originated in Egypt. Now, it has also been cultivated in India, South America, South Africa, and Australia.
From ancient Egyptian times, chamomile has been around for ages. It is a famous drug-herb and has both medical and cosmetic benefits. It is used in cosmetics, aromatherapy, and beverages.
People are exploring chamomile in many culinary applications, from ice creams to soup bases. Its sweet and lightly herbal notes give a sophisticated and unique flavor to desserts.
Chamomile tea is enriched with a relaxing herb that calms and invigorates. It gives relief from stress and anxiety. It can also treat nausea and stomach problems.
If you like chamomile tea, you can again try our Iced Chamomile Tea Recipe, which is best for summers.
Fun fact: America imports 750,000 pounds of chamomile each year, with 90% being used for herbal tea.
It is time to imagine the benefits of a cup, having ginger and chamomile together; I am sure you would be craving to have it now.
Tips to Make Perfect Ginger Chamomile Tea
Here are the key tips to make your chamomile tea perfect in taste.
If you are a sweet and sour lover then by pouring a few drops of lemon, you can get another variety of this particular tea.
To experience ginger's full taste, choose a fresh, whole ginger root with long, slender shoots.
Use a glass kettle, so you can see the beautiful herbs working its magic in hot water.
Dried chamomile flowers tend to yield more flavor and aroma than processed chamomile leaves in tea sachets or tea bags.
Brew until the flowers leave out their fragrance and color completely to get the full flavor.
If you are new to ginger tea, the spiciness can be overwhelming. Add a natural sweetener to make the tea less robust and more enjoyable.
Possible Side Effects of Ginger Chamomile Tea
Although, ginger chamomile tea has been reported to have very few side effects. Precautions are a must.
Some people have shown severe allergic reactions to plants. If you are allergic to plants, you should use caution when using chamomile.
Chamomile and ginger both act as uterine stimulants, which increases the chance of abortion.
Ginger is an anti-clotting agent. Therefore, you should stop drinking ginger tea 5-7 days before the day of operation.
If you have a high fever, an inflammatory skin complaint, ulcers, or gallstones, ginger can cause possible side effects.
Chamomile inside cosmetics can cause severe itching to the eyes if it comes into contact.
Overconsumption of ginger causes gas, heartburn, and lower blood sugar level.
Excessive intake of lemon added ginger chamomile tea could cause frequent urination.
Ginger is spicy, so it can also generate mouth burn, just like green chillies.
Conclusion
Ginger Chamomile Tea is an excellent blend of Herbal tea. Chamomile flowers are a calm and relaxing source, while ginger adds a spicy, deep flavor to the tea.
This power duo helps to de-stress and boosts immunity.
Its time to brew a hot cup, inhale its wonderful floral fragrance and then see your worries disappear as you sip this magical golden brew.
We would be happy to hear from you. If you find this article useful or want to give us any suggestions to improve it, please leave us a comment, and we will try to follow it.