Ginger Chamomile Tea is a perfect treat to your soul. Whenever, you are feeling stressed , tired or even having a cold, this tea is the way to go.
This tea is a potent source of beneficial enzymes as it contains not only one but two most potent medicinal herbs, ginger, and chamomile.
So, let's have a descriptive look at the proven benefits of this tea in the following section.
7 Benefits of Ginger Chamomile Tea
Ginger Chamomile tea is likely one of the most soothing tea you will sip. This is a naturally caffeine-free tea comprises numerous health benefits, which are as follows:
1) Treats Inflammation & Sore Throat:
The perfect blend of ginger and chamomile leaves you invigorated when you are treated to only a few sips of ginger chamomile tea.
Chamomile leaves are the finest anti-inflammatory, and ginger is supreme for curing cough. Therefore, whenever you have a sore throat, this cup of tea will surely help you.
2) Reduces Your Stress & Anxiety:
Chamomile leaves are beneficial for reducing stress and anxiety whenever you are tired of your hectic daily routines and burdened up with the heavy workload.
You should take a warming, fresh, and soothing cup of ginger chamomile tea and ward off all your worries. Remember to thank us later.
3) Helpful in Nausea & Morning Sickness:
This super beneficial tea has essential ingredients of ginger and chamomile leaves. Both elements have great power in healing nausea and morning sickness.
Add this cup of tea to your daily routine, and you will see nausea and sickness vanish away into thin air.
4) Gives You A Glowing & Spotless Skin:
Regular intake of this tea can make your skin immensely glowing and fair. The chamomile flower is given the rank of GOD in Egypt because of its radiant vibes and qualities.
It reduces the signs of ageing as well.
5) Relieves Muscular Pains:
Ginger is many painkillers for muscular pains. It is of great help in relieving the distress. Gym going people should consume ginger chamomile tea regularly as it can calm muscular spasm.
6) Acts As a Great Tranquilizer:
This strange combination of chamomile and ginger can also act as a tranquillizer as chamomile leaves contain an antioxidant called 'apigenin' which is substantial for its soothing and calming effects.
It makes your sleep comfortable and stress-free.
7) Great Medicine For Digestion:
This fantastic tea can help you get rid of an upset stomach. It improves your digestive system. It is of great help against vomiting and stomach disorders.
Practitioners use chamomile flowers for clinical purposes. But when it is combined with ginger, which is also notable for resolving stomach discomforts.
In short, It can do miracles to your stomach and digestive system.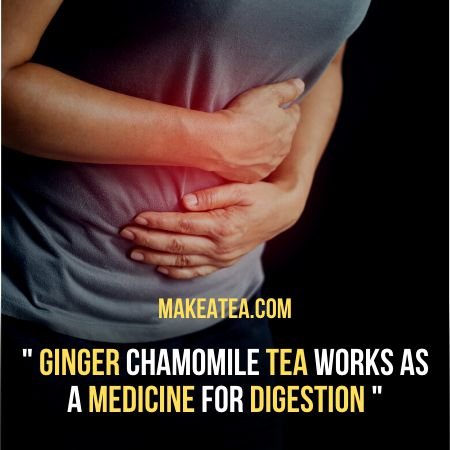 Here's a short recipe:
Take a fresh piece of ginger and cut it into long but thin slices.
Then boil the two cups of water.
Put ginger slices and dried chamomile flowers into it.
Boil for up to 5 to 7 Minutes.
Let it soothe for more than 5 minutes.
Turn the heat off and Enjoy.
Conclusion
Ginger Chamomile Tea is an excellent blend of Herbal tea. Chamomile flowers are a calm and relaxing source, while ginger adds a spicy, deep flavor to the tea.
This power duo helps to de-stress and boosts immunity.
Its time to brew a hot cup, inhale its wonderful floral fragrance and then see your worries will disappear as you sip this magical golden brew.
We would be happy to hear from you. If you find this article useful or want to give us any suggestions to improve it, please leave us a comment, and we will try to follow it.