"Tea" is a beverage that resides amongst the treasured drinks all over the globe. It is famous in different varieties like there is Earl Grey tea, Strawberry Tea & many others. This particular blog is a prevalent one, I.e., How to make tea with milk.
It doesn't matter if you raise a hand from Asia or Australia; everyone prefers a nice and warm cup of tea. People usually enjoy tea in their breakfast or on a relaxing evening. Some may like Taro Bubble Tea and royal milk tea from Japan, famous for its delicious and creamy flavor.
This beverage will especially appeal to Asian people because that's where it is consumed in the majority. People of other continents also enjoy this flavorsome beverage, but its origins are explored in Asian cuisine.
"Chai" is a name with which it is famous in Asian countries like Pakistan, India, and Bangladesh. People enjoy the rich flavor of tea leaves in the company of the nutritious benefits of milk.
Chai is a specially prepared beverage by combining the freshness of simmered tea leaves with the purity of milk.
History of Tea With Milk
The origins of tea with milk or chai are found in the Indian subcontinent, as mentioned earlier.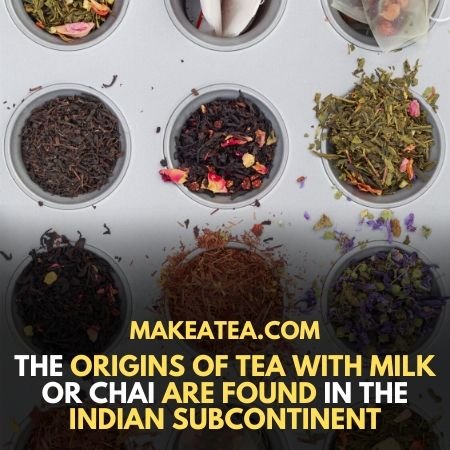 The tradition to make this old beverage dates back to the ancient era. It has been a permanent beverage in the cuisines of Asia for nearly 5000 to 9000 years. Surprised? I was too when I got to know about it.
There is a mild disagreement among some historians regarding the exact origin of this drink or chai.
Some say that its recipe was first practiced in what is today the country of India. On the other hand, some associate it with a Thai origin.
How To Make Tea With Milk
The recipe for making this beverage, in my opinion, is one of the easiest methods ever. It is as simple as spreading butter of bread, trust me!
First, let us go through the readily available ingredients that are required for its preparation.
4 Easy To Find Ingredients:
Following is the list of required ingredients:
Ground Tea leaves (powdered form) or Teabags

Water

Milk

Sugar
Steps To Prepare Tea with Milk:
Step 1:
Start with boiling the water in an electric kettle or by using the stove. The amount of water depends on how many cups are being served. So if you are serving two cups of milk tea, then add two cups of water. Wait for the water to boil.
Step 2:
The next step is a straightforward one and very easy. You must be wondering what could be easier than boiling water?  Well, the answer is adding the ground tea leaves to the boiling water.
Again, the number of tablespoons depends on the number of servings. Stir until the vibrant brownish-black color of tea appears. Let the mixture achieve a uniform composition (I hate chemistry, though!)
Step 3:
Now before you proceed, step back and let the mixture achieve the bubbly form.
Once it happens, then add the milk to the mixture. Honestly, this is the most satisfying part. Add the milk according to the color you want to achieve in your beverage.
Let it simmer again. After it starts to rise, grab a strainer, hold it over the cup, and pour the freshly prepare milk tea into the bowl. Of course, the residue behind is the ground tea leaves.
Milk extracts the rich flavor of the tea leaves out and presents it in your cup. That's how you prepare chai, buddy!
Tea With Milk – Two Very Important Tips
There are some essential tips that you should keep in mind during its preparation. Let's take a look at them:
1.

Flavor Control:
As I mentioned previously, the second step is the easiest of all. Well, I must tell you that it is also one of the most critical steps in preparing the perfect cup.
How? You must be wondering again. So, the thing is that the amount of ground tea leaves you put in the simmering water controls the tea's flavor.
There can be three types of tea; mild, strong, and extra strong. So, if you want to taste tea leaves dominant over the milk, you will increase the number of tea leaves.
Suppose you need your tea to be extra strong if you want a potent tea flavor compared to milk. Then, you add two tablespoons of ground tea leaves. This will make your beverage extra strong.
In the last comes the mild-flavored tea. This type of milk tea is obtained if you keep a balance between the added tea powder and the milk.
One tablespoon of tea powder with half a cup of milk and water makes a perfect cup of mild-flavored or regular flavored tea with milk.
2.

The Amount of Water:
Having studied chemistry, I must tell you. In this boiling part of water, some of the water will evaporate if you delay the addition of tea powder. I know that the evaporation will bring a very minimal amount of change in the water level, but not if it boils for a more extended period.
The delayed addition of tea powder will cause more water to boil. You might not get a strong or mild tea as per your wish so, be attentive. Add the powdered tea leaves as soon as the water starts to boil.
3 Benefits of Drinking

Tea With Milk
The benefits of drinking this beverage are presented as follows:
1.

Stronger Immune System:
This beverage can be a healthier choice as it contains cancer prevention agents that cause well being and help bring down the danger of chronic disease.
It likewise has polyphenols and antimicrobial properties that are advantageous to the digestive system's normal and healthy working; polyphenols may also help battle malignant growth cells. Milk Tea also lessens stress and increases energy.
2.

Nine Essential Nutrients:
The milk contains nine essential nutrients: calcium, vitamin D, vitamin B 12, protein, and potassium. It can provide so much support to the proper and healthy working of the body.
Calcium is necessary for bones. Protein is an essential requirement for the human body. So, as it is packed with such a nutritious treasure, only a small amount you add to the recipe can benefit you big time!
3. Milk Is A Perfect Companion: 
The addition of milk to the tea lessens the bitter flavor of the tea. When added to the black tea, the milk attaches itself to some of the compounds of tea. It covers up some of the elements causing bitterness, giving it a creamy and smooth texture.
Conclusion
In this blog, we covered the topic of how to make tea with milk. I presented a factual and straightforward introduction to the beverage under discussion.
We read about how old this recipe is. Then, I explained in detail its formula; amicably, and. Some essential tips were shared, which one must keep in mind while preparing this delicious drink.
In the end, I discussed three out of the many benefits of this beverage. I will say that the rawness and bitterness of tea are way more beneficial than adding milk to it, so, prefer drinking it without milk.