The most important factor behind the good or bad taste of tea is that "How Do You Make The Tea" and same goes for shroom tea.
As the popularity of mushroom tea AKA shroom tea is increasing day by day. So, people wandering to know that how to prepare it.
In this guide, we've added a 7 steps simple recipe to make an accurate & classy cup of magic mushroom tea. Also, we've added the answers of frequently asked questions by tea lovers community.
Let's explore together.
How To Make Magic Mushroom Tea
The popularity of magic mushrooms is increasing nowadays. As experts have researched that consumption of magic mushroom tea gives you a lot of benefits such as relaxing effect, reduces stress and many more.
In current era, extremists are consuming to make it a trend. As the extensive taste and pungent aroma opens an entrance of blissful sight and breath.
Making Psychedelic Mushroom Tea or Magic Mushroom Tea is pretty much similar to basic Mushroom Tea! Here is how to brew it in an easy way.
How To Make Shroom/Mushroom Tea - An Easy Recipe
Ingredients  
Crushed or Chopped Mushroom

1

cup

water

Honey or Sugar (add according to your taste)

few drops of Lemon Juice
Instructions 
Pour a mug of water into a pan and let the water boil.

Place crushed or chopped mushrooms in a teapot.

Pour the boiled water over the chopped or crushed Mushroom inthe teapot.

Let the Mushroom sit for 15 to 20 minutes, stir.

Pour the ready tea into the mug by using a water filter so the Mushroom cannot fall into the cup.

Add a few drops of lemon juice to this delicious shroom tea.
1)

How to Make Tea with Raw Mushroom
It will help if you have raw mushroom truffles to make this tea because they'll add a tea's delicate taste. For a refined taste, you can add other ingredients like honey or cinnamon to the tea.
Below we mentioned the five steps to brew the raw shroom tea:
Buy quality mushrooms and weigh the proper amount according to your required dosage.
Cut the shroom into tiny pieces and put them in a pot. Try to keep the surface area of the shroom small to infuse in the water to make a perfect tea.
Add two table spoons of lemon juice in the shroom and let it sit for 10 minutes.
Boil the water until it starts bubbling, and then let it cool for a few minutes. Add the water into the shroom and let it steep for 20 minutes.
Add honey to the tea according to your taste.

2)

How To Make Mushroom Tea With Powder
Powdered Mushroom is an excellent option to brew a perfect cup of shroom tea.
Below we mentioned the five steps to brew the powdered shroom tea:
Add two table spoons of lemon, shroom powder, and some ginger to a pot.
Pour the boiled water into a pot with the ingredients and stir the mixture.
Steep the tea for at least 20 minutes before drinking it.
Why Magic Mushroom Tea?
Do you know why most people prefer magic mushroom tea over eating raw shrooms? The main reason behind this is the weird taste of mushrooms.
Because it's easy to drink shroom tea as compared to chew and swallow the raw mushrooms.
The taste of shroom tea is bearable and anyone can drink it with ease. If you're one of them who get nauseated easily, then mushroom tea is a better option for you, instead of eating mushrooms.
Also, mushroom tea reduces the possibility of vomiting for the majority of people.
But if we talk about eating raw mushrooms. So, it's a nightmare for many people. Because it's hard to consume chitin, which makes fungi cell walls. Also, in eating, there are more chances of nausea and vomiting.
Is Experience Different?
As we discussed earlier, there is a major difference between consuming psilocybin in a tea vs directly eating.
In a tea, you can make its taste better by adding lemon and ginger. It also increases the benefits of mushroom tea. The addition of lemon juice in mushroom tea, may enhance digestion and reduce nausea.
Moreover, it may increase the trip as well. Also, you can add hibiscus, ashwagandha, and licorice root to make your mushroom tea taste better.
If you eat raw mushrooms, then the trip might be stronger. It can be difficult to handle for a first-timer.
Iced Shroom Tea
Ingredients  
Water

Sugar, Brown Sugar or Honey

Lemon Juice

Mushroom

Black Tea

Ice Cubes
Instructions 
Put the water on the stove and let it boil.

Let the water cool for a moment or so.

Add the water into a container that contains chopped or crushed mushrooms.

Add Tea bags to the container.

Stir it for 5 to 10 minutes and remove the tea bags from the container.

Add White, Brown Sugar, or Honey.

Add lemon juice to the mixture.

Steep the mixture into a container that you can put in the freezer.

Put the container in the freezer for an hour.

Pour the Iced Shroom Tea into your cup and enjoy your favorite iced version of it.
Mushroom Drink Varieties
If you want to experience and explore different tea flavor with you shroom tea, then we got you covered. Here are some tea types that go best with the shroom tea:
Ginger
Lavender
Tulsi
Chamomile
1)

Ginger
If you're concerned about your nausea problem, then ginger is the best option to try. You can also take ginger tea if you have eaten mushrooms and feeling nausea. 
Moreover, you can add honey and some ginger to your shroom tea to make it more digestible.
2)

Lavender
If you want to try an aromatic tea, try combining shroom tea with lavender. Lavender is good for managing stress, and you can add it to the tea to enjoy health benefits.
You can add lavender leaves or powder in the shroom tea for an enhanced taste.
3)

Tulsi
Tulsi is an Ayurvedic herb that is best known for its medicinal benefits. Combining shroom tea with spices like Tulsi can give you tons of health benefits.
Tulsi, also identified as holy basil, and its best lifts your mood by calming your nervous system. If you want to stay active throughout your day, we suggest you try shroom tea with a hunch of Tulsi.
4)

Chamomile 
The combination of chamomile with mushroom tea helps with the tea's side effects. The mixture is best for digestion, and it prevents nausea and stress.
You can add the chamomile tea bag to a cup of ground-up mushrooms. You can also try chamomile with lavender and honey in the shroom for an enhanced flavor.
Health Benefits of Shroom Tea
People from around the world consider fresh mushrooms a healthy food. These Fresh Mushrooms are enriched with antioxidants and fiber. When you put mushrooms in the sunlight, they become a source of Vitamin D. Vitamin D is suitable for your bones and immune. The funny thing is that your dog can also try tea, so you can say it's pet-friendly.
Drinking this tea is best for your health, like Hokkaido milk tea. The following are the four most notable benefits of this tea:
This magic tea helps in treating diabetes.
It makes the heart muscles strong by controlling the cholesterol level.
This tea prevents and fights against cancer germs.
Mushroom Tea heals the injuries; it is natural healing medicine for any wound.
The psychoactive compound is known as psilocybin found in the magic shroom is suitable for treating depression.
The tea is not addictive; instead, it can treat problems like cocaine addiction.

Add Shroom Tea to Your Morning Routine
This magic and delicious tea must be part of your morning routine as it keeps you energetic all day long. It is a unique and classic energy booster and helps you release fatigue.
This tea keeps you active and fresh in the morning so you can fulfill your daily tasks. Although the tea is good for nausea and vomits, we'll advise the pregnant ladies to consult their doctors before drinking shroom tea.
Disadvantages of Shroom Tea
Mushroom Tea is a healthy beverage, but it may affect some people with certain diseases. Before starting this magic drink, you may consult your doctor. If you take blood-thinning medicine, don't drink this tea as it prevents blood clotting.
It may be risky for those diabetic patients who are injecting insulin due to blood sugar. It would be best if you take advice from your doctor before you start drinking this tea. There is not much research on whether the tea is good for pregnant ladies or not. It will help if you consult your concerned doctor if you want to add the tea to your daily routine.
You should consult your doctor before adding this tea to your daily routine. If Shroom Tea goes well with your chronic diseases, you must make it a necessary part of your daily diet.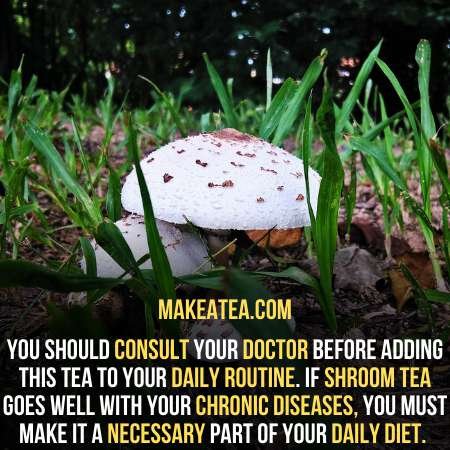 The Bottom Line!
No doubt that mushroom tea is one of the most delicious drinks. Also, there are many other kinds of mushrooms that you can use to make shroom tea.
Many medicinal mushrooms like reishi, shiitake, and maitake are best for cancer prevention. The tea has many health benefits, and it'll be ideal for your overall well-being.
Keep in mind that the excess of this tea may cause you problems like blood clotting and headache etc.