The never-ending exquisite varieties of tea will further expand today. In this blog, I will present to you Chamomile Tea. Excited? You should be. Let us explore more about this exquisite beverage.
Starting with the base of this tea, which, of course, is Chamomile. What is Chamomile? Well, see for yourself as we move on further. Chamomile (or camomile) is a flowering herb.
It appears as a little daisy, with a yellow central disc encompassed by delicate white petals. This is for those folks who would run to their gardens to spot some of them.
Some Interesting Facts About Chamomile
Chamomile is more fragrant than comparable blossoming flowers, radiating a delicate floral, nearly apple-like essence that is extremely unwinding. Due to this, and because of its many reported medical advantages, Chamomile is marvelous in the comprehensive list of herbal teas and fragrance based treatment (known as aromatherapy).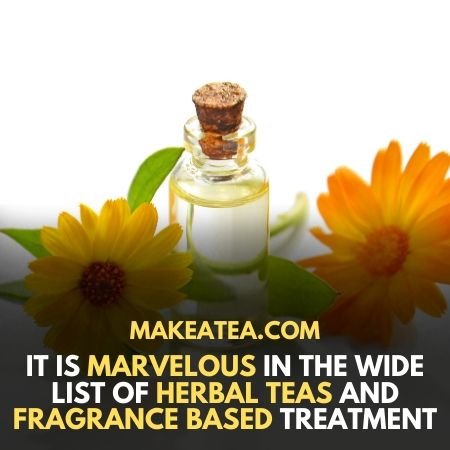 Some people claim the origin of chamomile tea to be Egypt. An interesting fact about the etymology of the word "Chamomile" is derived from a Greek word chamaimēlon, which means "ground apple." Egyptians were believed to be the ones to drink this tea in ancient times.
Types of Chamomile
Chamomile flower is categorized into two main types.
Roman chamomile (Anthemis nobilis)
German or wild chamomile (Matricaria chamomilla)
So, now we have two types in front of us. The roman chamomile flower was given the name after the botanist who discovered this flower near the famous historical Colosseum in the city of Rome.
Talking a bit about German Chamomile, it has a robust and sharp scent. The roman Chamomile, on the other hand, comprises a fruity and sweet fragrance.
How To Prepare Chamomile Tea
In this section, we will see how to make chamomile tea, the recipe, and simple ingredients that you require for its preparation.
Let us take a look at the ingredients,
3 Easy To Find Ingredients:
So all you need is:
Water (2 cups)

Dried Chamomile (3 teaspoons)

Honey (optional, for taste)
Instructions To Prepare Chamomile Tea:
We will start the procedure now with simple steps,
The very primary step is taking a saucepan and boiling the water

Wait for the water to boil. Now add the dried Chamomile.

Stir it well and cover the saucepan.

Wait for some time. Let the flavor of chamomile blend well with the water.

Now what you will do next is, straining the tea into cups.

This is where honey comes in, as you can add honey to the tea to add a sweet flavor to it. Mix it well with a spoon.

Serve and enjoy it.
How To Prepare Chamomile Lavender Tea
As you guys saw the recipe for chamomile tea, there is another dynamic combination of Chamomile and lavender. The chamomile lavender tea is a premium quality beverage that relaxes you after a stressful work.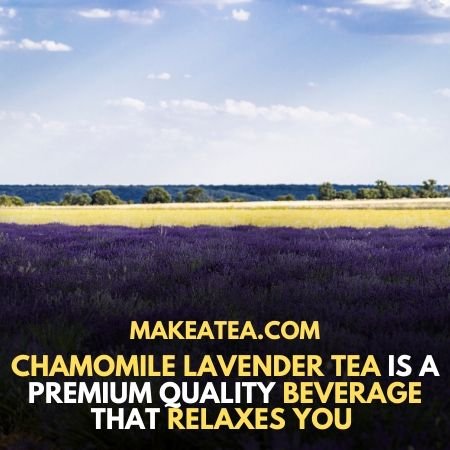 As we know, both Chamomile and lavender are nature's excellent remedies. When these are combined, it makes one perfect cup of warm flavourful beverage.
Its recipe is as simple as chamomile tea's recipe. So we will go through its formula too. First, we saw how to make chamomile tea, now we will read about the preparation of chamomile lavender tea.
Read about how to prepare Lavender Tea.
4 Easy To Find Ingredients:
Lavender Buds (2 tablespoons)

Chamomile Buds (2 tablespoons)

Water (2 cups or 500 ml)

Lemon Juice (1 tablespoon)
Instructions To Prepare Chamomile Lavender Tea:
Put chamomile and lavender buds in a teapot.

Pour boiling water in the teapot. Add the lemon juice.

Let the tea mixture rest. Let the flavors blend efficiently.

After infusing for 10 minutes, pour the tea into cups after straining.

Serve and enjoy.
7 Benefits of Chamomile Tea
Chamomile tea is a pharmacy in itself. It contains synthetics called flavonoids. These flavonoids are a sort of nutrients present in numerous plants, and they play a vital role in Chamomile's therapeutic impacts.
Now let us take a detailed look at the several health benefits.
1.

Relieving Menstrual Pain:
A few investigations have connected chamomile tea to decreased severity of menstrual cramps.
A recent report, for instance, found that using chamomile tea for a month could diminish the pain caused by menstrual cramps. Ladies in the examination additionally reported less uneasiness and distress related to period torment.
2.

Curing Diabetes and Stabilizing Blood Sugar:
Once more, a few investigations have discovered that chamomile tea can bring down glucose in individuals with diabetes. Research doesn't show that Chamomile is a practical substitute for diabetes prescriptions, yet it might be a useful enhancement to existing medications.
This impact of the chamomile tea consumption diminishes the drawn-out danger of diabetes inconveniences, recommending that Chamomile could improve diabetes results.
3.

Prevention of Osteoporosis:
The medical benefits of it also include prevention from osteoporosis. Osteoporosis is defined as a condition in which the bones lose their progressive density. It is not limited to any specific age or gender; anyone can have osteoporosis.
The majority of osteoporosis cases are linked to the women having a post-menopause phase. The reason is due to the effects of the hormonal release of estrogen.
According to a study, chamomile tea is believed to contain anti-estrogenic effects and can promote bone density.
4.

Diminishing Inflammation:
Inflammation is defined as the reaction of the immune system to tackle infections. Chamomile tea contains various beneficial chemical compounds that may decrease inflammation.
Be that as it may, long haul inflammation is connected to a broad scope of medical issues, including hemorrhoids, gastrointestinal agony, joint inflammation, immune system disorders, and depression too.
5.

Controlling and Stalling Cancer:
A few investigations recommend that this beverage may target cancer cells, or even keep those cells from creating in any case.
Notwithstanding, the investigation so far is uncertain, and researchers state more work is expected to demonstrate Chamomile's cancer cells targeting claims. Likewise, most research has taken a gander at clinical models in creatures, not people.
A recent report looked at the cancer growth fighting abilities of marigold and chamomile teas. Both had the option to target cancer growth tumors specifically; however, the impacts of marigold tea were more powerful.
6.

Chamomile Tea – Caffeine Meter:
You will be surprised to know that this tea has no caffeine in it. Similar to all herbal teas, it contains zero caffeine. This makes it a perfect beverage to promote natural sleeping effects.
7.

Chamomile Tea Weight Loss:
The unending list of Chamomile tea's benefits also includes the weight loss, but what the thing is that it is a pleasant method to unwind, however, it won't straightforwardly assist you with weight loss.
No substance in this tea catalyzes fat burning. Just exercise and diet can do that. In any case, it's a drink that is calorie-free, which keeps you hydrated, and it might help diminish pressure, which can affect your weight.
Conclusion:
In this blog, we went through the chapter of a diverse beverage; chamomile tea. From its informative introduction and general facts, including its origin and history, we read about the simple and easy recipe for this beverage.
We also discussed a mini topic related to the main; chamomile lavender tea. So, along with the recipe for it, we also went through the method for this unique combo.
In the end, we learned about the paramount health benefits of this beverage, in detail.
So, make your mind and light your stove to prepare a warm cup of chamomile tea. Are you up for it?
You May Like To Read Our Other Articles On: